YOUR STAY WITH US DIRECTLY SUPPORTS THE OTHERS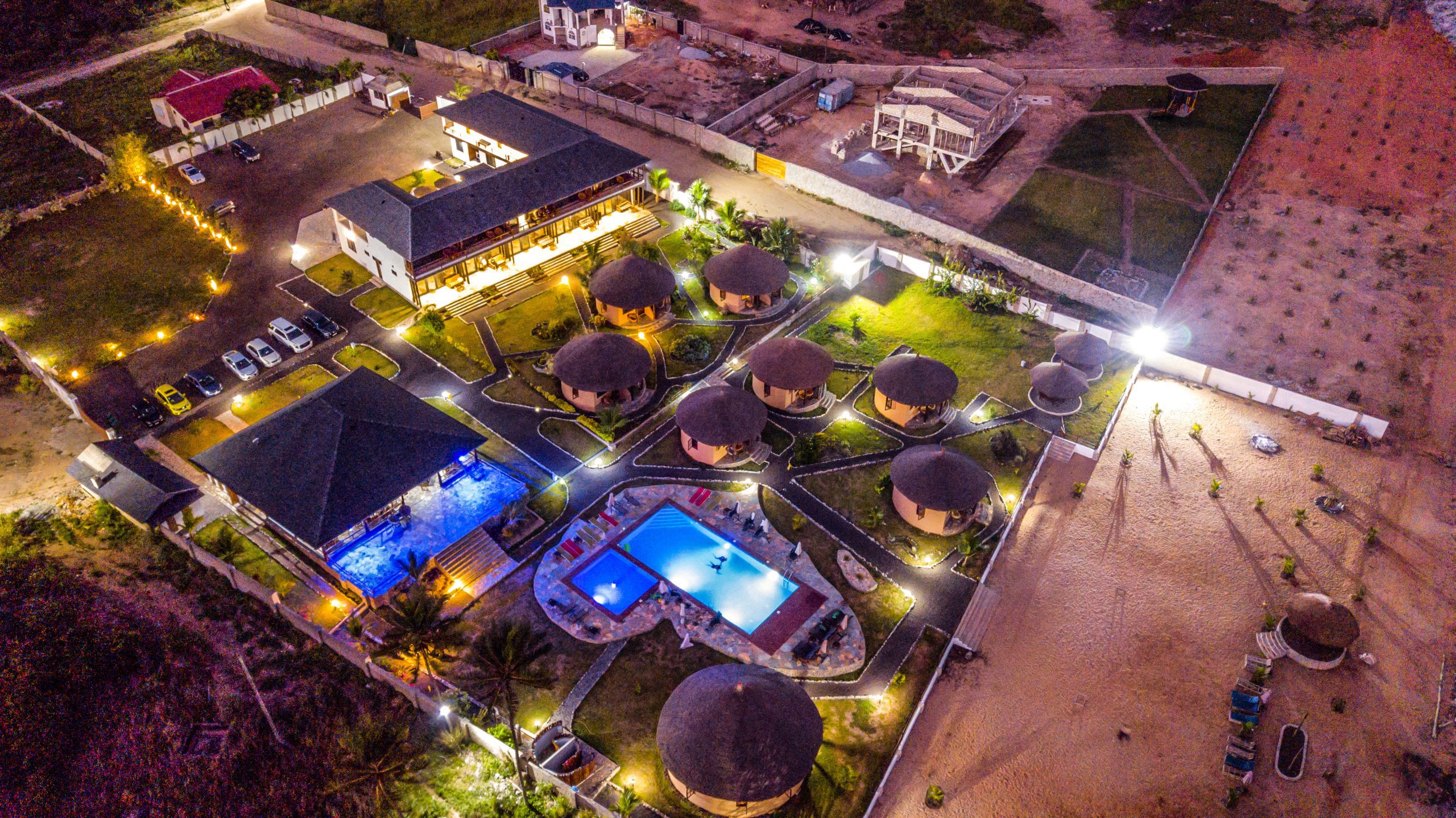 The whole story started in 2012 when 2 men and 2 families from 2 continents were connected by chance. Proofed friendship led to the moment when we bought the land and decided to build something special on it. Something what will create unforgettable memories to our guests, support the others and make our kids – our successors – to be proud of their fathers as their predecessors.
David Duron and Kofi Amissah
Our Social Responsibility / NGO projects
Lemon Beach Resort invests from its profit back to the society. We do support several projects helping less privileged people and kids in Ghana. Your stay at Lemon means, you are contributing as well. Ask us for more details. Will be our pleasure to share with you more.
2020 – Chicken Farm for Egyeijrom Refugee Camp (48.000 USD)
FARM WITH THE WINGS is the name of charity project that is going to set up long term and sustainable source of funds and work for the community of 1,412 refugees living in the camp. The farm comprises of a 6-chicken chambers and a butchery. All construction work was done by the refugees with the necessary and needed skilled labour. The project was done together with the support of The Embassy of the Czech Republic in Ghana and our partners NGO – Michael Kunke Foundation
2021 – Renovation of the M/A Basic School in Elmina (51.000 USD)
ORBIS PICTUS is the name of the project as the support sustainable access to education in Elmina. Our project site is the Elmina M.A. Basic School. The school has 70 Junior High School (JHS) 1 students split in two, occupying two classrooms (35 per class). Complete renovation of 2 class rooms including the furniture and the back office room for the teachers. The project was done together with the support of The Embassy of the Czech Republic in Ghana and our partners NGO – Michael Kunke Foundation
2022 – Innovation and ICT Centre in Elmina (53.000 USD)
A LITTLE EINSTEIN is the name of the poject which is focused on transformation of old building into computers room and innovation centre which is used by 10 basic schools in Elmina and by almost 2.000 students in these schools. Kids are improving their ICT knowledge and science practical application. The project was done together with the support of The Embassy of the Czech Republic in Ghana and our partners NGO – Michael Kunke Foundation
2023 – A 3 days Robotics & Coding Bootcamp
Fantsactic event, created and organized by Michael Kunke Foundation. Three days even held in April 2023 at Innovation Centre. The program was designed to introduce 40 students from various schools in Elmina to the basics of Robotics and Coding. The program also aimed to encourage teamwork and socialisation among the students. Lemon Beach Resort was proud partner of this event 
2022 – 2023 Free Surgeries in Cape Coast Teaching Hospital
MEDEVAC is a long-term initiative established by the Czech Republic's government with the aim of delivering medical aid and support to vulnerable individuals in African nations. This program offers free surgical procedures and post-operative care to civilians in desperate need of medical attention or those whose circumstances hinder them from living a dignified life. Highly skilled doctors and nurses from Czech hospitals visit Ghana every four months, staying for 11 days, and providing approximately 40 complimentary surgeries during each visit at Cape Coast Teaching Hospital and Tamale Teaching Hospital. 
2023 – Urgent Renovation for Catholic Girl's Primary School
The school comprises five classes, with an approximate student population of 50-60 per class. However, the entire school lacks electricity and suffers from numerous roof leaks. This presents significant challenges during the rainy season, as education is frequently disrupted by rainwater dripping on students. Additionally, the absence of electricity means there are no fans to alleviate the uncomfortable heat within the classrooms throughout the day. Lemon Beach Resort together with private supporters and kids from the Czech school have put together the budget of 70.000 GHC for electricity wires and fans (August 2023). Anyone can join us with the required 100.000 GHC for replacement of the old roof by new one – we plan to start in December 2023.